Christmas eve: "WOW mom! Santa left presents for us at our door step!" per William my 3 year old. A anonymous person in our community left a tag only saying Love Santa. Chris and I were so touched.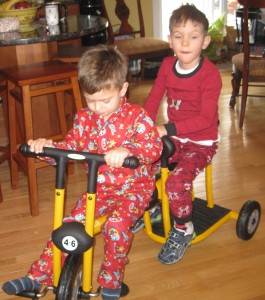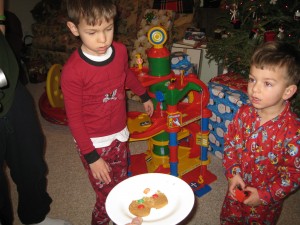 I was looking at a picture of Nicholas and William at Santa's Village this year and thinking… Nicholas sure has brought out a lot of good in all of us.   Materialistic things really don't matter anymore to me as I experience my 6 1/2 year old son slowly dying in front of me. My own family has gone leaps and bounds working toward saving Nicholas by their own generous donations and endless time working on our foundation. I am fortunate to have a husband, family and friends surrounding us with careers that can help us pave the way for a successful foundation to make a difference in all children with batten disease.   Our house looks like toy land by the generous gifts my boys have received from family and friends.   We now live for the moment and life is all about how to make it better for Nicholas.  I have excepted that Nicholas' life is going to be short and family and friends are doing everything to save my son, even strangers are touched by our story. I am sad about Nicholas but when I take a step back I am also very humbled by the generosity we have received.
Only one year ago I started this web site for Nicholas. Wow what a year of changes.  With the help of my dad and friends I sent out lots of Christmas cards this year for our foundation.
I wrote in my holiday card this year it is difficult for me to look at old video's of Nicholas from one year ago running and speaking in sentences. As now he wears he AFO's (leg braces) 75% of the day, he does get around walking with assistance or a walker, he is nearly totally blind and slurs most words. His shoulders are starting to hunch forward with a stiffness. We continue to attend physical therapy 4 days a week and we try to remain as active as possible to keep his muscle strong and his total body loose. Nicholas has had good seizure control since October with very few myoclonic jerks through out the day. He remains only on a strict regimin of Ativan and Klonapin for seizure control. He is eating well and growing like a weed. He is 52 pounds had grown 2 inches since last year!.  Chris has shown me how to just hoist him over my shoulder like a sack of potatos if I need to pick him up. Nicholas remains happy.
This December was packed full of fun each weekend.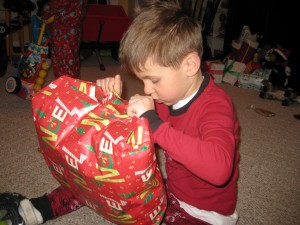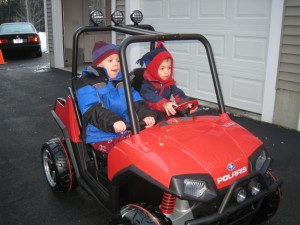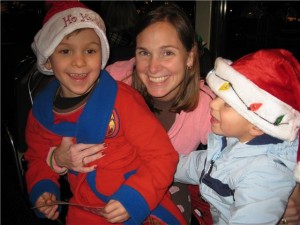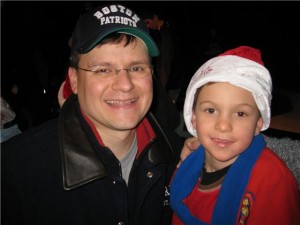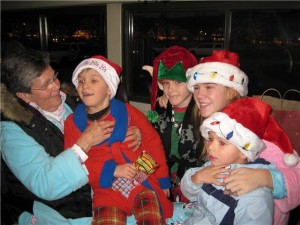 We rode the polar express train in North Conway NH to the "North Pole" This year the elves met us off the train and surrounded Nicholas as we walked into the snow hut to see Santa. Then Santa choose Nicholas out of the crowd and gave him the only bunch of hay for the reindeer. Nicholas was just beaming with excitement. It was real cute. We also stayed at a hotel with a indoor water park which Nicholas would not leave until he could no longer move. We also took a visit up to Santa village in a snow storm. It was worth every minute as Nicholas giggled through out the day.
Our fundraiser events continued this month.
First we had shop for a cause which was on December 3rd put together by Sophia Johnson and the Newcomers Group of Bedford raised roughly $430.00 for our foundation.  Followed by this event was the Middletown MA Holiday Bizzar on Saturday December 5th a annual event in this town.  Our cousin Nancy Morrison submitted our foundation as the charity foundation to receive the proceeds from this event, which were were awared $2000.  Saturday December 18 was the Holiday Charity Concert put together by the Bedford High School steering committee and Ansley Berg (a high school student). Ansley, a senior volunteered at our gala in October and set her mind she wanted to do something for Nicholas. She did make a big impact on our lives by raising $1400 for our foundation. My boys enjoyed a late evening out listening to music with friends. Thank you Ansley and Nicole!
Chris and I were lucky to be given 2 tickets by a close family friend to the Winter Classic Bruins/Flyers game on January 1st at Fenway Park in Boston MA.  What a tremendous event!  We were able to sell these tickets at the gate 1 minute before the start of the game for a $600 donation.  I was happy for the young couple who sat in seats "for Nicholas".  It reminded me of all the times Chris and I took Nicholas to the Red Sox game starting at age 1. He always had a blast eating hot dogs, popcorn and lemonade. Yelling and singing with the crowd for the Red Sox. Nicholas was our little athlete and would have loved to have gone to this event.
Lastly but not least is we have received many more donations from the holiday mailing.
Thank you for family and friends for the kind words, cards and prayers for Nicholas it really mean the world to me.  Again thank you for being so generous with additional donations this year for our foundation. You have made a difference. Happy New Year and we hope to have some sort of break through in this new year of 2010.  Our foundation has some good plans for this year. Look for updates. Don't loose hope!
UPCOMING FUNDRAISER EVENTS
You're Fired
January 15-17, 2010 come to You're Fired Pottery located at 25 South River Road, Bedford NH. Decorate/paint pottery just in time for Valentine's day.  Mention our promise to Nicholas foundation and studio fees will go directly to our foundation. This event is put together by Linda Stensgaard from the Mom's club of Bedford.
For more information contact You're Fired at 603-641-3473 or heatherdainiak@hotmail.com