DATE: Saturday April 8, 2023
WHERE: NH Sportsplex Building #2, 68 Technology Drive, Bedford, NH
TIME: 8:30AM- 12:00PM
Doors open at 8:30AM and ends at Noon.
Join us at the Our Promise to Nicholas INDOOR MAZE to the Egg Hunt!  – We are happy to bring some joy to the community and host an indoor even this year.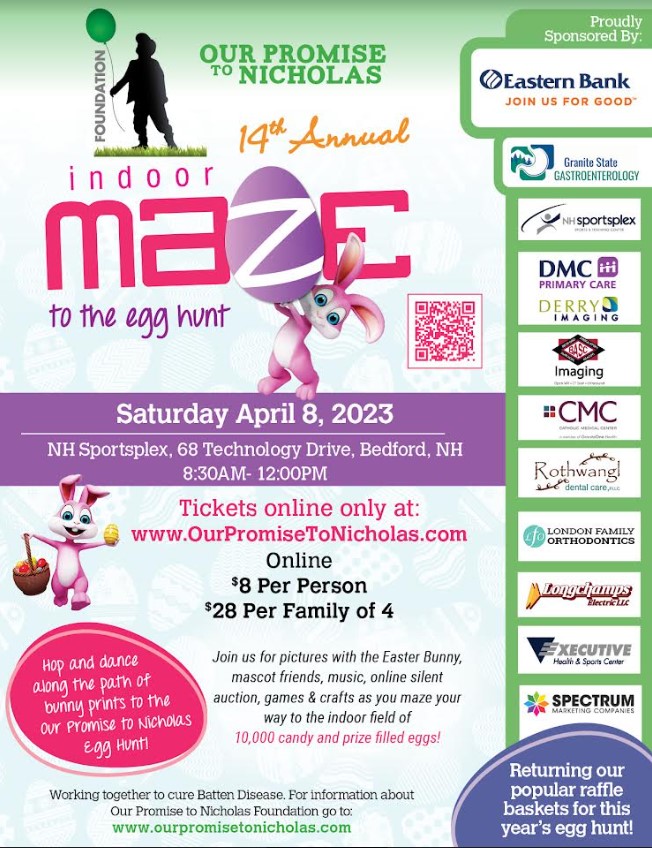 There will be 15,000 plastic-colored eggs filled with candy and prizes on the fields for the children to gather in a controlled environment. Each family will receive a ticket at the entrance of the event with a specific time to enter the egg gathering part of the event.  This is for safety and allows families to take pictures and enjoy the egg gathering. Your hand will also be stamped at the entrance. 
THE EVENT: Your family will hop along the bunny footprints path in a one-way direction through the NH Sportsplex to the Egg Hunt and photos with the Easter Bunny. There will be plenty of eggs for everyone! Sponsorship tables will be along the bunny path across two indoor soccer fields. Families can stop at each sponsorship table to collect information, play games and get eggs. Along your maze journey, your family will be able to listen to music by DJ McHoopsta, play a few kids' games, get your child's face painted, visit our bake sale, take photos with our cute mascots, visit Kricky the Clown for a balloon creation and enjoy a bunny craft.  Come by our famous Easter raffle baskets and auction area for some great deals.  Look for and take pictures with Troy Wunderle from Vermont's Big Top Adventures walking around the event!  This bunny path will lead you to the egg field filled with 15,000 plastic-colored eggs filled with prizes! 
EVENT TICKETS and SPONSORSHIP- (CLICK HERE) https://secure.qgiv.com/for/optnf/event/865101/
Discounted Tickets" will be available to purchased online prior to the event at  $8/ticket (1person), $28.00 (4-7 people) or $56 (for 8 people).
Keep your receipt as that is "your ticket" and bring it with you day of the event
NOTE: Discounted online tickets close on Friday April 7 at 5PM
Tickets can be purchased at the door for $10/person
* Adults and Children (that are able to walk) in a family/ or party will each need a ticket to enter the egg hunt event.
PLEASE NOTE:   There will be no auction this year. Only raffle baskets.We will be selling raffle tickets at the event for $20 for a pack of 25. And high-end raffle items $5/ticket. Raffle Basket winners can pick up baskets and winnings on Saturday April 8 at the NH Sportsplex- 68 Technology Drive, Bedford, NH between 12:00PM- 1PM. We will call your cell phone so please write your information clearly on your ticket's stubs! If you cannot pick up your winnings on Saturday April 8 at the NH Sportplex – all items can be picked up on Monday April 10 at Eastern Bank – 1 Atwood Lane, Beford, NH. No Easter Baskets items can be shipped.
IMPORTANT INFORMATION About -Extra Event Parking: 
All parking is free. There will be parking at the NH Sportsplex- 68 Technology Drive, but the lot fills up quickly. We do have extra parking with a shuttle service by the Bedford Martial Arts Academy. This organization can transport you and your family to and from the NH Sportsplex. The transportation will start at 7:15AM and ends at 12:30PM.
10 Iron Horse Drive- next door to the NH Sportsplex. -You can walk to the event building at the NH Sportsplex. It is a short distance or take a shuttle service from this location.
1 Commerce Drive– Girl Scouts of Green and White Mountains- this is located across the street from Irving Gas Station/ Circle K gas station on Route 3 / South River Road.
PLEASE NOTE:  Per Bedford Police: Do not park at Cabaret Millennium, also called Gold Club, No parking at Segway and No parking on the side of the of Technology Drive. You will get ticketed or towed.
Questions/ Concerns: contact Heather at email: heatherdainiak@hotmail.com
See you Saturday!