It has taken me about 6 months to update about Nicholas. But first I have many to thank in the past 6 months. 
NEW OPTN VIDEO CLICK HERE TO WATCH
In March we had our 4th Annual OPTN/Bedford Mom's Club easter Egg Hunt on March 31, 2012. It was a HUGH success raising roughly $9,500. Thank you to our sponsors IRA Lexus of Bedford, Catholic Medical Center, NH Sportsplex, Nini Bambini, Fitness Authority/Cross Fit of Bedford, My Gym, Woodplay of Bedford, Ameriprise Financial, Debbie Ellis Photography, Bedford Martial Arts, Kricky Clowns and Manchester Monarch- Max., Simply Delish and Sweeth Tooth Bakery,  Thank you Stephanie Caldrone,Kristen Lande, Heather Bond, Kelly O'Donnell, Marie Obrieter,  Suzanne Bergeron, Beth Tamulevich, Dianne Kashiwabara, Jena Slosberg, Julie Newman, Amy Boughter, Jamie Humphrey, Amy Kemp, Melinda Chen, Debbie Ellis, Jeremy Haskins, Mary Trahan and Katie LaQue.   Thank you to St. Anselm Nursing students for providing us with many volunteers. Thank you to the mom's club of Bedford NH many volunteers and putting this event together for OPTN.
Lastly we held our 4th Annual Fore! Nicholas Golf Tournament on Saturday June
23,2012at the Stonebridge Country Club in Goffstown NH. We had over 90 golfers this year joined by an additional 50 guest for our dinner portion of the event. We raised roughly $20,000 at this event. Our All-Star Sponsor was AutoFair Hyundai of Manchester.  Thank you to our sponsors Bedford Ambulatory Surgical Center, Bedford NH, Brian P Hayward, CPA Paul F. and Mary Anne McLaughlin Family Foundation, GDS International, INC of NYC, Paul's Fine Clothing, Inc. of Cheshire, CT, The Friel Family, Tom's Earring Holders, Westhampton MA, DTS Therapy, Rehab and Exercise of Merrimack NH, McCarthy Family, Chase Waste Material Corporation of New Haven, CT, Kelly M. Dainiak DMD Naples FL, Duncan Donuts of Walpole, MA, Congress Asset Management, Delta Dental, Bridgeport Hospital, CT, Next Step Orthotics  and Prosthetics, Inc, Workplace Benefit Solutions, Elite Backyard Rinks, Sales, Design and Installation, Granite State Credit Union. Thank you to our band Nobody's Fault. Thank you to Debbie Ellis Photography,  Thank you to Dotty and Bob Noyes, Susan Williams, Kathy and Don Pierce, Amy Noyes and Thank you to all our 26 volunteers on the day of the event. Thank you for the nurses Sonia and Cheryl who took care of Nicholas all day at our home during the event. Thank you to all the raffle items, silent auction items, TV, Ipods, Raffle Baskets, gift certificates all donated to make our event a success. Thank you thank you thank you thank you!!!!
Update on Nicholas: I have not updated on Nicholas for about 6 months. It has been a slow and steady decline in the past 6 months. We thought we were going to loose him in February/March when he was diagnosed with pneumonia. We were able to keep him home, comfortable and out of the hospital but it was a very stressful time for me and my family. Luckily we have a big support system around us. Nicholas pediatrician nearly came daily to check on him and we were in constant contact with Nicholas's doctors and staff from Boston Children's hospital Boston to adjust his medications. He started having seizures and it was difficult to get him out of the clustering. I don't think I will ever forget the day Chris looked me in the face and told me this could be the end for Nicholas. I think I cried for about 24 or more hours in disbelief. But antibiotics and a lot of fluids slowly Nicholas got better. I know we had a lot of prayers for Nicholas and family around us at that time. I know the plans for Nicholas future and I will never be ready to let him go but I did not think this was his time. We were lucky this time he was able to fight and returned slightly to baseline. But was no longer able to eat anything by mouth or stand even with assistance.  It does continue to be torture watching this disease take his life slowly away. Complete torture. Knowing I now  have a few more months another year or two makes me feel lucky. 
Nicholas finished 3rd grade and moved into the summer school program for 6 weeks.  The hours are better as school starts at 9AM and he comes home at 1PM. He is able to sleep in longer which is good for him. Nicholas often has difficulty getting to sleep and wakes a few times a night every night.  He continues to go to school with his same awesome nurse Theresa. He continues his therapies at school PT, OT an Speech, therapies from Easterseals and  massage 3 days a week out of school .  We are lucky to have been blessed with therapists and nurses who love Nicholas as much as I do.  He is mostly tube fed by pump during the day, some days he can tolerate a bolus feeds but we do struggle with reflux.  We have added Nexium, Claritin daily to his medications and often pedicare is added to dry up the flem we can hear in his throat. These medications that seems to help keep the food down as well.  Nicholas uses his "stander" 2 hrs + per day and is given a hot tub bath daily with epsom salts and jacuzzi bubbles which seems to help relax his muscles when they are tight. Nicholas continues to take his seizure medications 12 times a day, it is just a way of life for us.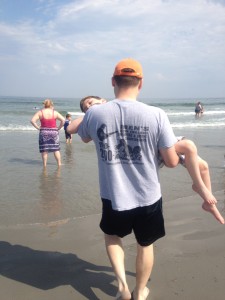 We have taken many trips to the beach this summer. It is peaceful and relaxing having Nicholas listen to the waves, smell the beach and feel the sand in his feet as well as cold water of the ocean. We will get a few smiles out of Nicholas but they are getting few and far between. I can feel his body completely relax into mine when I sit behind him holding his body. I know my boy's mind and soul is still in that body. I am thankful that he does not seem to be in constant pain or frustrated but instead overall he seems content and okay being with Chris, William and I.  I like to believe that he knows we are doing everything we can to keep him comfortable.
Inn the month of July we had to go forward to get a full sized lift into our van for Nicholas to ride in his wheel chair. Thank you to both our parents for providing us with the money to get this done for Nicholas. Also "Ride Away" of Londonderry NH provided us with a free lift and we only paid for labor. When they realized it was going to take more than 2 days as planned they did not charge us for the 3rd day of labor. Thank you. I am both thrilled to have the lift in our van but also sad to have to get this done. It was hard to hold in the tears when I picked it up from the shop. 
Nicholas was diagnosed 4 years ago and watching old video's of him can knocked the wind out of me. I can't breathe and I am filled with sadness and anger. I know I need to be brave for William and Chris. I know I need to be brave for  our family and friends around us but I just want to yell, scream and hit anything that comes in front of me some days. I know it is a child's way of thinking. I understand the cycles of life. We are born, we live and then we die. But I also would do anything to take Nicholas place and give him a chance to live longer. This wish will not happen in Nicholas's life time. So all I can do is continue to cherish him, love him and feel very blessed by my family and close friends around me. I do feel loved and I am thankful for the continued kind words and actions, cards, gifts of hope and love. Thank you for holding my hand and walking through this journey with me. I am thankful for all the goodness I have been shown in the past 4 years.  God bless!