UPCOMING FUNDRAISERS!
BIG SUMMER BASH
DATE: Thursday June 20, 2012
PLACE: Bedford Martial Arts Academy
334 Route 101, Bedford NH
TIME: 4 PM- 7PM
Admission Cost: FREE but any donations go toward OPTN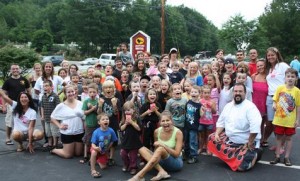 Join us at Bedford Martial Arts Academy's Annual BIG SUMMER BASH.  There will be Bounce House, Dunk Tank, Magician, Games/Activities, Demonstrations, Raffles, and LOTS MORE! Good Thymes BBQ will be there firing up the grill. Great Music by DJ MC Hoopsta. Bring Your Friends and Family. All Proceeds to Benefit "Our Promise to Nicholas" and to Help Find a Cure for Batten's Disease.Additional Parking for Event:  Hannafords Grocery Store
5th Annual FORE! Nicholas Golf Tournament and Dinner
DATE: Saturday June 22, 2013
PLACE: Stonebridge Country Club, Goffstown NH
TIME: 1:30PM Golf
DINNER: 6:00PM
Please join us at scenic Stonebridge for a special day and evening to raise funds for Batten disease research.
​Featuring an 18 hole golf scramble, team prizes, hole prizes, raffles, silent auction, cocktail reception, live music and dancing.
​Prizes include a $25,000 hole in one, a 55 Inch 3D HDTV,  IPad, Red Sox Memorabilia, Raffle baskets, Tickets to James Taylor at Fenway, and a year membership at Stonebridge!
​Dinner is your choice of Clam & Lobster Bake, Grilled Chicken or Prime Rib.
Don't golf? Make it a "date night" or "night out" for a evening with a gourment dinner, live-band, amazing raffles donated, dancing over looking a beautiful golf course and don't forget to get the famous Buzz Light Year Drink!
Golf Web Site Click here: Golf Web Site
NICHOLAS UPDATE
Hard to believe Nicholas turned 10 last month.  It was a tough day for me to get through with out a lot of tears as I reflect back on his life and the past 5 years. William made him this hat at school and a card. William and I also made Nicholas a cake to celebrate. We are lucky he is still with us today. I am lucky to also have Chris and William get me through that day.
Nicholas has been only fair lately. In the past month he continues to have one to two seizures a week. Which is better than every day but it has really worn him out. This is not a good pattern for Nicholas.  As when he has one seizure I have to increase his seizure meds quite a bit to make sure he does not have cluster seizures.  Coming down from the "seizure med high" is hard as he goes through with drawls. Much more shaking, hallucinating and agitated. He has more smiles but he gets overly excited for shows or sounds that again it could force his body quickly into a seizure again.  He has a very low threshold for them at this time.  His sleeping continues to be very poor often waking at 2-3AM and not returning to sleep until late morning.
This week he has developed a mouth/ tongue twitch, his arms are flap up and down and his muscle seem very tight  which are all due to the high level of meds in his body that he had to be on last week to stop from seizing.  We are working daily to return his meds to their usual doses but it has to be done very slowly or he will have another seizure coming down on meds. So he continues to have PT and massage therapies, baths with Epsom salts,  keeping the environment around him calm and lots of holding and hugs …all seem to help.
He only has 2 more weeks left of school. He will be home for one week and then summer school for 6 weeks. Summer school is good for Nicholas because he actually gets all his therapies at school. He seems happier when he gets out of the house and follows a routine of riding the bus and going to school with his friends.
I am looking forward to our plans for the summer which will be taking our annual trip up to Cabot Vermont Joe's Pond in July. This  is a place Nicholas has gone every summer for 10 years. I know he still will love the smells, hearing the loones, riding in the boat and grampy's Model T and hanging out with family. We hope to make a trip to Santa's village while we are in the upper part of New Hampshire. Otherwise I would like to take Nicholas to the beach as much as possible this summer. It is good for our whole family to get out into that beach /salty air, sand and hear the waves! We have a great tent that Nicholas and I sit under, Nicholas listens to his movies and I watch William run in and out of the water or dig in the sand.  Other plans we have are  taking Nicholas to the pool is something he loves and a few trips down to Boston to the Museum of Science.!  Pictures to come to keep checking back with us.
Acts of kindness: Bedford Martial Arts Academy is having their Annual Summer Bash and choose our charity as their benefit this year. We are honored. This month the instructors are wearing "GREEN" ribbons in honor of Nicholas. I was so incredibly touched to see this when I took William to his class last week.
Bedford Morning School: Had their annual Bike-a-ton for with their school children, They raised over $500.00 for OPTN. I was so touched they continued to think of us this year. See below the kids pictures.
Here is Nicholas in May trying his best to smile. When he makes this face….he is getting really really excited from something I said to him or one of his movies!
We love him!!!