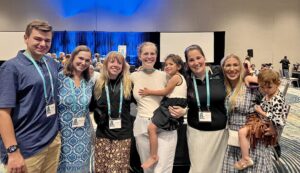 This is our 9th year volunteering/working in the affected kids care room at the BDSRA Summer Family Conference. This year it was in Denton Texas. Thank you for the support from Mary Payton Miracle Foundation, Fore Batten Foundation, and many other family foundations like ours that sponsored the affected care room this year. We are grateful.
We are thankful at Our Promise to Nicholas Foundation the Kelley Sisters – Meghan, Bridget, Erin, and Hannah attended this year's conference. These young strong beautiful women have taken a leadership role in this room for the past 9 years- knowing the needs of our special children with various types of Batten Disease. Meghan Kelly is an ICU RN at Children Hospital, Boston, Bridget Kelly certified behavioral specialist, Erin -nursing assistant in the ICU Boston Children Hospital and Hannah Kelly is a support staff to her sisters!
A teacher agency was hired who supplied our room with various types of teacher staff who came to our help including special need teachers, childcare workers, preschool teachers and grade schoolteachers. Due to the nationwide nursing shortage, hiring a nursing agency was not an option. This group of ladies (and one gentleman) were fantastic being hands on with our special kids. This year we had approximately 25- 30 kids and were lucky to have most of the children with a 1:1 staff. We played games, enjoyed arts and crafts, played with toys, watched movies, had a music therapy session and a visit from therapy dogs. Lots of laughter and smiles all around the room for two days!
Thank you to Patricia Golden and her quilting group from South Carolina crafted and donated 27 quilts that were given out to the children at this conference.