Wow what a week…or actually 3 weeks. Nicholas has been very sick for the past three weeks with many more seizures.  It was a difficult time for all of us. We thought the increase seizures were from a virus, levocarnatine or even a possible bacterial infection.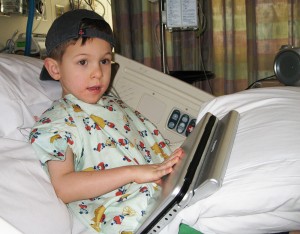 The final straw was this last week when we increased his seizure medications and from that point Nicholas started to decline with progressive ataxia and myoclonic jerks.  Each day it got worse and seizures increased. We thought this must be a progression of his Batten Disease so we tried to work through it.  We went down to see family in Connecticut and he continued to have seizures which were stacking up to four to five a day and he became so ataxic that he could not walk or even sit up.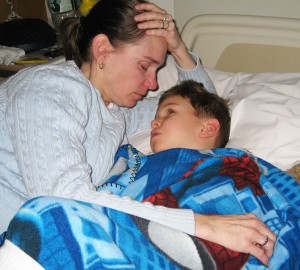 We had to give him Diastat (emergency medication for seizures) after progressive staking or seisures and then drove to Boston to admit him to Children hospital  (a 2 1/2 hour drive from Connecticut).  He was admitted immediately into the emergency department and he had two more seizures as I put him on the bed.  He was given another dose of Ativan by IV which finally stopped the seizures for a little while.  Nicholas and I stayed together in one little hospital bed for 5 days on the neurology floor.
Chris worked with the team of doctors to determined the best medications and care for Nicholas as his Batten disease complicates treatment for epilepsy . His brain is so sensitive to the anti-seizure medications so we continue to avoid them.  Slowly we added Clonazepam a long acting benzodiazepine and discontinued Ativan.  But, while in the hospital he had many more seizures until an appropriate dose was reached. Each seizure leaving Nicholas completely lethargic and unable to walk.  He has no reserve left in his body to take the seizures.  Once he was stabilized on the Klonapin he was scheduled to have a MRI. This MRI would tell us if he had any changes in his brain from September 2008.  We are very thankful to find that he has had NO significant change in six months. I cried when I found out this good news from the doctor and lets hope for another good six months.
Chris and I wanted to thank my mom for staying with me in the hospital most nights and my mother in law for taking care of William at home as well as family and friend support while we went through this week.   Chris had work he could not cancel so he drove down at nights to Boston to see us. I could not have done this with out family support. It was a very stressful week and I think we are all glad to get things back to "normal".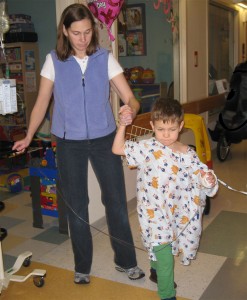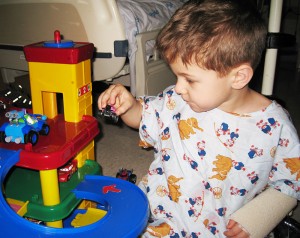 So, now Nicholas is six days seizure free. He is back to walking/running and talking. Amazing… I actually took him sledding yesterday and he had such a huge smile on his face. He tires easily so we are careful not to over do any activities.   It was great to see him having so much fun. Nicholas especially missed his little brother William while we were at the hospital. They have been playing together non-stop since we came home. It is very endearing to watch.   We will continue to take one day at a time with his health and not loose hope.
I also wanted to mention that my town Bedford Mom's group has been working on a really exciting fundraiser for "ourpromisetonicholas" foundation. (A foundation that we are in the process of setting up). It will be an Easter Egg hunt at the Sportsplex located at 68 Technology Drive, Bedford NH. The date is Saturday  April 11, 2009 from 9:30-11. I am so touched by the kindness we have received. It really keeps me going to stay positive. I know I always write it but the love and support we have received from family and friends really helps.  Please keep calling, sending emails, cards and stopping by to see us helps us cope as well. I will continue to post every two weeks.