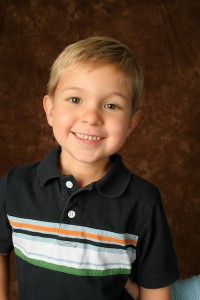 Nicholas R. Dainiak, 11, of Bedford, NH, died on his birthday, May 9, 2014 at his home after a courageous six year battle with Batten's disease.
He was born in Waterbury, CT to Christopher and Heather (Noyes) Dainiak. 
Nicholas had lots of energy and enjoyed many activities, including swimming, gymnastics, reading, painting and listening and dancing to music. He also enjoyed dressing as super heroes, playing with his Lionel trains, attending Red Sox and Celtics games and all things Disney, in particular the character, Buzz Lightyear.
He participated in the Bedford Jaguars flag football program and played on the Challenger baseball team, which visited Fenway Park in Boston for a special day with the Red Sox.
Throughout his challenges he was very appreciative of those providing his care. He also had a special bond with his service dog, Shane.
A foundation to raise funds, promote awareness, and provide education and research has been created by the Dainiak family called "Our Promise to Nicholas".
The family includes his parents of Bedford; a brother, William C. Dainiak of Bedford; paternal grandparents, Nicholas and Gail (Massimino) Dainiak; maternal grandparents, Robert and Dorothy (Morrison) Noyes of Sudbury, MA; paternal great grandmother, Jean Massimino of Connecticut; and many aunts, uncles and cousins.
SERVICES: Calling hours are Sunday from 1 to 5 p.m. at Lambert Funeral Home & Crematory, 1799 Elm St., corner of North Street, Manchester, NH. A Mass of Christian Burial will be celebrated Monday at 11 a.m. at St. Elizabeth Seton Church, 190 Meetinghouse Rd., Bedford, NH.
In lieu of flowers, donations may be made to Our Promise to Nicholas Foundation, P.O. Box 10106, Bedford, NH 03110.
To leave a message of condolence, visit www.lambertfuneralhome.com