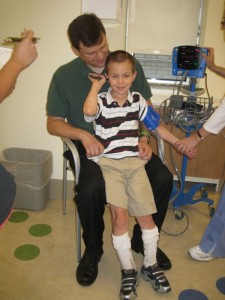 Nicholas has been well since his brain surgery on August 24, 2010. He has returned back to school and his after school therapies.  He was very lethargic and tired for  the first 4 weeks after surgery. There were days when he hardly spoke a word and his walking was not strong even with assistance (he would cross his legs as he walked causing himself to trip over his own legs. This was scary to watch because Chris and I were not sure if this was going to be the best Nicholas would be. He was clearly much better prior to surgery. 
But by the end of the 5thweek Nicholas started to slowly have more energy to talk, walk and play. There was a significant difference than the weeks prior and we were thrilled. Taking one day and one step at a time.  We are exactly 2 month post surgery and Nicholas is back to baseline. I have not seen any improvements from this point yet but I also do not see any batten disease decline. Which we would see monthly. Nicholas is eating well and has gained back the weight he lost at surgery, walking withassistance and seems over all much stronger than last month. His talking still varies, some days he will say sentences like "good morning mom, I wanna feed fish, hi Allie, can you help me with this, I missed you! and even his funny sayings as "stupid head" and other days he can hardly get out the words to say "pee!" His biggest frustration is not being able to tell us exactly what movie he wants but will nod his head yes or no as we read through the movies. He can still communicate his needs with his hands in his own sign language which we understand and is able to get a few words out on the tougher days. Nichoals has had a few seizures in the past month but they were due to inaccurate meds at night.  Our first doctor appointment in NYC post surgery was on September 29 in which Nicholas had an evaluation by a neurologist and blood was taken.  The team did not report to us their opinion of how Nicholas looked but the they looked pleased to see us and Nicholas. It was a long 6 hr trip down the the city for such a small appointment but we know it is important for the children behind us to follow in our footsteps to follow through with all post-op evaluations.  Everyone loved seeing Shane (our dog) again in the city.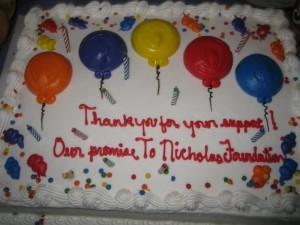 On September 18, 2010 we had our first OPTN appreciation cookoutat our house. It was for all our family, friends, volunteers and Nicholas therapists who have all touched our lives and brought us together. Thank you for all your love, support, hard work, laughs and cries with us. We are a success because of all of you. I think everyone was excited to see Nicholas and we were glad to be home! But you can see we have been so busy from the moment we came home from NYC.
On October 2, 2010 Russells' Garden Center in Wayland Ma had their Annual Fall Festivalfor Our Promise To Nicholas Foundation. Nicholas grandmother, Dotty Noyes has been an employee at this garden center for over 20 years. They held a huge successful raffle as well as sold donated coffee and water at their event. They raised over $900 donated to our foundation. Thank you David Johnson, Iris Belmore and her sister Liz for putting this event together for us.  Russell's Garden Center has a OPTN coin box at each register of their garden center they have raised over $2500 in the past year and a half just from coin donations. We are so thankful for their love and support for our son Nicholas. He loves his visits to the garden center which he has done since he was a baby. The first thing he likes to do is play with the trains in the toy area, walk over the bridge by the coy fish pond, feed the fish and also simply smelling the flowers. Everyone says "hi Nicholas" really puts a smile on his face.  Thank you Russells' for your endless support of our family.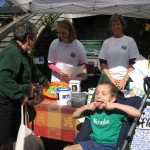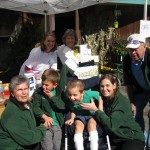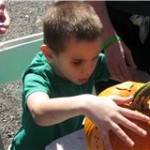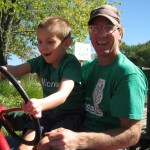 On October 16, 2010 OPTN had our Outdoor Halloween Movie Night Fundraiser. Over 500 people attended in costume this cold night fundraiser. It was a great success and we raised over 3k. Two movies It's the Great Pumpkin Charlie Brown and Ghost Busters. Thank you to those of you who contributed and thank you Marie Obrieter who organized our bake sale and Corinna Doughty who organized and wrapped all the raffle basket.  We were sponsored by the Meat House who make hamburgers and hot dogs as well as Carabba's who sold hot soups. Thank you to Regal Cinema in Hooksett NH for donating the popcorn. Thank you for our friends (Mason Family and Lucy Johnson) and family (Gallagher,  Band Family, Noyes Family) who made and ran the children's games, face painting and pumpkin decorating.  Thank you to all our volunteers at the event. We could not have pulled this fundraiser off with our your support. Thank you to my mom and sister who really helped me put this event together. Thank you to Andrea Richard, Katie Blazak, Alex Tessier, Melissa Kelly, Jannette Mooney, Ann and Dick Kenyon, Mark Morrison, Theresa Hebert, Vikram Aggarwal and Alyssa Hammond Family,  Dalton Family, Allie and Amy Paquette, Laura and Tripp Legendre, Catherine Sanborn, Dotty & Bob Noyes, Amy Noyes, Carl Lequia, Laura Dodge. THANK YOU!!!!
UPCOMING EVENT- Please contact Heather at heatherdainiak@hotmail.com if your interested in volunteering in any of the following fundraisers 2011 is going to be a fun filled year for OPTN Foundation.
Our Promise To Nicholas Fishing Derby  Saturday January 15, 2010, Framingham MA – More details coming. Stay tuned for more information
OPTN Foundation Easter Egg Hunt Saturday April 16, 2010, Bedford NH Sportsplex.
Ride for Nicholas- Motorcycle Ride Saturday April 30, 2010, Bedford NH Time and Place being determined
FORE Nicholas Golf Tournament Saturday June 25, 2010 (tentative date) Stonebridge Country Club, Goffstown NH
Thank you again for all your support for Our Promise To Nicholas Foundation