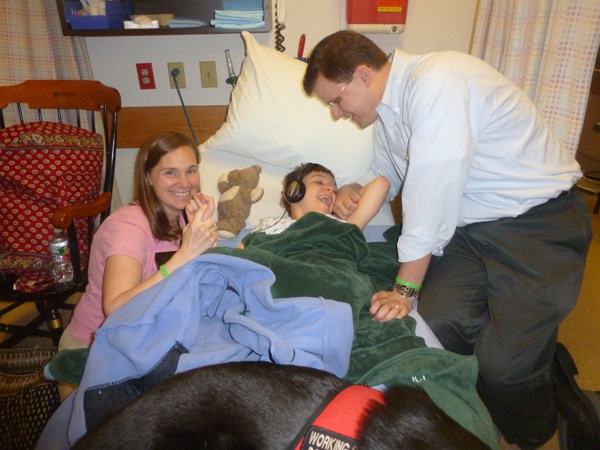 A quick update since Nicholas g-tube was placed on August 4, 2011. He had lost nearly 10 pounds over the summer and had difficulty opening his mouth and chewing his food. It was very stressful for both Nicholas and I so Chris and I decided it was time for a feeding tube placement. It was placed at Mass General Hospital in Boston. He got through surgery with no complications. After a few weeks of only giving him formula tube feeding he gained back his weight and strength.  He was able to begin to eat by mouth again. He still can not get enough calories he needs to maintain a healthy weight.
He still needs full assistance and feeding all meals but expresses a lot of pleasure while eating (saying mmmmm). He tires easily so I still tube feed him some during the day and night to make up any calories that were missing.  All water and meds go through the g-tube which has been extremely helpful. Nicholas he is able to sit up into a sitting position using his arms and legs to get him into this position. He as not able to do this prior to the tube being placed.
He is able to walk with full assistance a further distance. He is happier and more smiles. He even kissed me last week which he also had not done for many months. Honestly it left me in tears of joy making me feel like I got a part of my Nicholas back.
On his first day back at school he raised his hand to be weather man which he had not done that for about 6 months.  His therapiest all report he has much more energy for their sessions and enjoys being busy. We will see how the fall goes and if he continues to improve or at least stop declining.
We had our OPTN Movie Night Fundraiser. We raised $4500.00 which is a great success and more than last year. Thank you to our sponsors of the event Carrabba's Italian Grill and Meat House for supplying all the hot foods at our event. Thank you to the Boston Red Sox for your support with Wally! Thank you to Michael Ginsburg and his band "Fate Revisited", St. Anselm Dance Team teaching the kids the Monster Mash Dance, Regal Cinema in Hooksett NH for donating the popcorn, All the bedford mom's club, Marie Obrieter, Teressa Stauber (Simply Delish) for donation of baked good for the bake Sale Table, Beverly Davidson and her crew for running the children games again this year, Ms.Teen NH for coming to our event, Thank you to my sister Amy who organized the volunteers this year and was besides the scene setting this event up. Thank you to my mom and dad who tackled the raffle baskets, bulking mailing and many odds and end tasks before the event. Thank you for my brother's family coming down from VT to help all day at our event. Thank you to my husband Chris you made this event run smoothly.  Thank you to all our 65 volunteers from family, aunts, uncles, cousins, friends, nurses, babysitters,  and St. Anselm college students. We could not have put on this event with out your help on the day and prior to the event. Thank you from the bottom of our hearts!  Hope you all had fun because we sure did!
Pictures from Saturday October 15 Bedford Outdoor Movie Night Fundraiser: