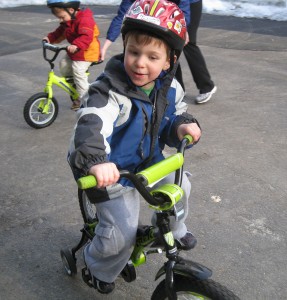 Nicholas is doing well. Check out this picture of him on his bike.  I did not think he could a ride a bike. He jumped on his bike and rode down the driveway faster than I could say "NO!". I could not believe it.   Next see him back at soccer. We have missed 6 weeks and Nicholas is just loving it. Laughing, running, trotting and yelling all at once. He did great tracking the ball, despite his poor eye sight and it was such a joy to watch.
What is new with Nicholas? We have changed his medications back to Ativan during the day and Klonapin at night. He has been having about 1 seizure a week which is tolerable. When Nicholas was on Klonapin during the day he was just agitated, irritated and very hyperactive.  So far he is back to his spirited self but close to the Nicholas we all know and love.  He also is back on levocarnitine 3.3ml/day and a multivitamin.  We have also increased his physical therapy to 2 hrs /week. His mobility has significantly improved each week since we left the hospital in February.
We did have an appointment with his neurologist in Boston last week. We plan to not change his medicine regimen.  We decided not to re-start any ADHD medications at this time as suggested and the reason is that we feel less medications for Nichols is best.  His behavior is tolerable and we except him for who he is now. Again he is so sensitive to medications. We also decided not to put him on the Ketogenic diet after all.  Nicholas has a brain disease causing atrophy that is causing the seizures and this diet will not take the seizures away. We need to cure him of this disease.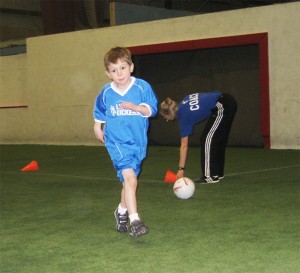 Another appointment we had was to the dentist. Nicholas did excellent getting his teeth cleaned with out any fuss but he does have a small cavity. We are in the process of trying to figure out how to get this cavity filled with out rocking his medication regimens. He is not going to sit still for the dentist so we are working on a plan with possible anesthesia involved. I brush and floss Nicholas' teeth…so I felt very sad he has a cavity and has to go through this. But, we will get through it. We have a lot going on these days. We just got back from a short weekend get away up to Vermont where we went on a horse buggy ride, more sledding and a trip to a maple sugar shack.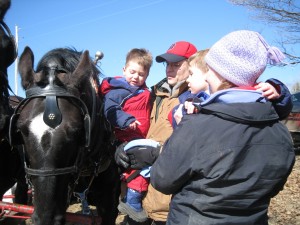 Nicholas enjoyed the company of his grandparents, cousins, aunt and uncle. I think Nicholas mostly love hiding up in the top bunk in one of the rooms with his cousin Ian reading books. Excited that he and his brother William could sneak to the top bunk and singing to us " haha, no one can get us in our fort!" Made us all smile…he could actually get up there by himself to have fun pretending.
We also will plan a short trip down to Disney at some point with the grandparents.  We are not sure if Nicholas' eye sight is getting worse so while his health is stable we decided it would be best to go now.  The boys talk about going on the buzz light year ride, tea cups, roller coaster and haunted house. A 3 day trip of rides and hugs for Mickey is worth the trip for us.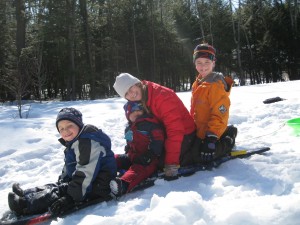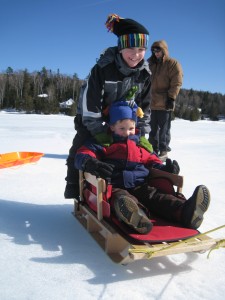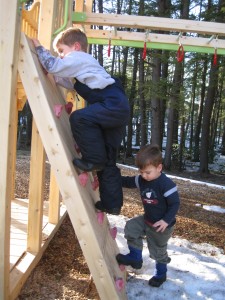 We are in touch with a videographer to video our story about Nicholas.  We know the media wants us to share our story. A video telling our story would be of enormous benefit in helping to raise money to not only help Nicholas but to help other children with this disease.  Our goal is to raise money specifically for research and to help others. We are still fundraising for a cure! Working with "our promise to Nicholas" foundation and setting up a 501-c non-profit organization. We have bi-weekly meetings with family and friends via conference call. Our planned events are the Easter Egg hunt April 11, 2009 New Hampshire Sportsplex, Golf tournament June 20 2009 at Candia Woods and Gala /silent auction at Manchester Country Club on Oct 2, 2009 (tentative date).  We also have some family friends that are running the Boston and Chicago Marathons for Nicholas. Amazing!
Thanks again for everyone reading our web site, kind words, emails and thoughts. If you see Nicholas and I around town he is still very happy and we are usually running holding hands because he likes the feeling of always moving fast. It also makes him laugh out loud which is a contagious laugh if you hear him. Please find the peace and strength in yourself that Nicholas is going to get through this. He seems to touch everyone heart he comes into contact with.