JOHN TANNER
All of us at the Our Promise to Nicholas Foundation are deeply saddened to learn of the untimely death of a beloved friend and supporter John Tanner during the New York City Half-Marathon on March 17, 2013 at the age of 47.  John had been a long time competitive runner who devoted all of his races over the past 5 years to raising awareness about Nicholas and Batten disease.  He always wore a shirt and wrist band supporting Nicholas while competing.  He was a valued and special employee of Russell's Garden Center in Wayland, MA, where he worked for the  past 6 years. He always treated people with kindness and respect and he had love in his heart that was felt by all who met him.  John met a young Nicholas Dainiak during the early stages of Batten disease.  Nicholas enjoyed John's company and was thrilled to wear medals from John's races, even one from the 113th Boston Marathon, which he gave to Nicholas. Nicholas considered John to be a superhero. John was a hero to all of us at OPTN and will be greatly missed.
Bedford Mom's Club hosts Our Promise To Nicholas 2013 Easter Egg Hunt
Over 6,000 eggs were spread across the field, and the children delighted in hunting for their special eggs.  The eggs were filled with candy or stickers, and a few special ones held unexpected prizes. In addition, families participated in a variety of activities including face painting, games, bounce houses, and live entertainment, and they tried their luck at the raffle and silent auction tables.  Guests also had the opportunity to visit with many local business representatives at information booths throughout the venue.
This amazing event raised over $15,000 for the Promise to Nicholas Foundation—an increase of more than 50% over last year's event. Our success would not have been possible without the continued support from our community and your generosity.
Thank you to our sponsors Ira Lexus of Manchester, Catholic Medical Center and Executive Heath and Sports Club of Manchester, the Suzanne Burgeron, Kristen Lande, Heather Bond, Meg Duhaime, Crystal Wyatt, Kelly O'Donnell, Paige Staar, Stephanie Calderone, Dianne Kashiwabara, Amy Boughter, Ana Stuart, Christine Senel, Jenny Wan, Lauren Jenkins, Sonia Almeida Marie Obrieter, Suzanne Eastwood, Trisha Atkins, Lisa Kaveney, Melinda Chang, Debbie Ellis, Bedford mom's Club, St. Anselm nursing student voluneers, Theresa Stauber Simply Delish, Christine Stoll NH Naturals, Nini Bambini, Bedford Martical Arts Acadamy, NH State clowns /Kricky the Clown, Monarch Max. Thank you to all our volunteers
Fore! Nicholas Golf Tournament and Dinner
Saturday June 22, 2013 at 1:30 PM
Stonebridge Country Club, Goffstown NH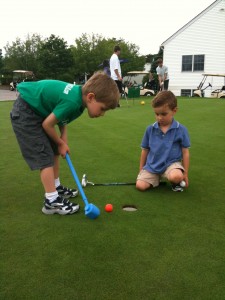 Nicholas UPDATE

:
It takes me a while to update Nicholas's posts because he has had a slow and steady decline since January. He has had a few more seizures over the past few months than usual and his medications have increased. Once he has one seizure it is difficult to prevent him going into cluster seizures for a few days. Even though I am used to his seizures it is still stressful. Nicholas's medications need to be increased which causes him to become " high" on meds. Also causing lots of myoclonic jerks, a  little psychosis and no sleep for a few days. He seems "nutty" but happy. It takes me about 2 weeks to return his medications back to their usual doses. All this time I am in contact with him neurologist team at children's hospital.
In March Nicholas started with a strong left sided twitch and his whole body seemed to be forced to the left side. (As you can see in this picture). It was difficult to make him comfortable when lying down but we continued to do stretches and use of the stander to flex his body back into a better position. We continued his massages 3 times a week and other therapies to keep him comfortable. We made sure he spent plenty of time soaking in an Epsom salts bath in the evening before bedtime. All these help keep any pain to a minimum. I can not stress how much his therapies are important to his comfort and well being (as well as routine). I had his final IEP meeting at school a few weeks ago and I am very thankful his school team was in favor of keeping his currently therapies to maintain any function he still contains. He will continue 5th grade next year with his peers. Hearing is old friends I thought would be comforting to him.
We have not been able to take Nicholas to the pool or for outings as much on the weekends over the winter months because he has been sick with a flemmy cough or cold. To prevent pneumonia from setting we were careful not to take him out into public. He continues to enjoy listening to his movies and shows. He enjoys being cuddled by family, care takers and close friends. He was given an ipad by the Moore Center in Manchester NH and we added familiar sounds and music to his daily routine. He still has that "sparkle" in his eye that lets me know he enjoys the new sounds…and sometimes I get a slight smile. Chris got the boys the updated Wii Dance video game and to my surprise at times Nicholas will smile to the kaos of Chris and William dancing to the music.  Nicholas still feels the beat! 
This side picture is this winter. We still try to do as much as Nicholas can tolerate.  We thought getting him outside with us on the ice rink would be good!  He is in a sleeping bag too. I could hear a few "cooing" sounds and trying to smile.. which that sure makes our day good. I will try to post a video.
Nicholas was able to attend this year's Easter egg hunt fundraiser. I think he enjoyed the sounds around him.  William and his cousins loaded his lap with about 20 plastic Easter eggs. I was able to get one into his hand to hold and I can clearly see that he know what is going on around him. The event the bedford mom's club has turned this into for OPTN is amazing. Our family is very humbled by the love and support the Bedford community continues to give us 5 years since we started OPTN.
We continue to try to keep Nicholas as comfortable as possible each day.  Emotionally some days for me are harder than others but I am able to tuck that saddness away deep in side. I don't have time for tears now… I am thankful Nicholas is still with me. But I just want him to always be free of pain. I turn to my husband and family for comfort, I turn to my son William for joy and I turn to my closest girl friends that let me know they will be here until the end. Thank you for the support.. it means more than I am able to let everyone know in person.
Lastly, that first picture in my short blog is a picture of Nicholas a few weeks ago wearing the metals that John Tanner gave him 4 years ago. He was SO proud to wear the metals. We did take Nicholas to the funeral service last weekend. There were so many pictures of Nicholas and John.  Pictures of John wearing a shirt to support my son. And our support from Russells' garden Center friends always makes me at a loss for words.  We are honored to be part of John's life.
Thank you for following my journey.  You keeping us going and keep us positive. I owe it to you who read my web site, watch my video's, love Nicholas like I do and support my family.
Thank you and God Bless you and your families.
Heather
UPCOMING OPTN FUNDRAISERS
Bowl for Nicholas
– Sunday May 11, 2013, Merrimack Ten Pin, Merrimack NH 11-2
5th Annual FORE! Nicholas Golf Tournament and Dinner
Saturday June 22, 2013, Stonebridge Country Club, Goffstown NH
Paint for Nicholas 
Date in June 2013 Details to come
Bedford Martial Arts Academy Fundraiser for OPTN
June- date to be determined
John Memorial Run to benefit OPTN
– Date October 2013 details to come
contact me if you are interested in sponsorship or volunteering in any of the upcoming events at
heatherdainiak@hotmail.com
. Thank you again for your support!