Nicholas remains busy starting the new year. He is still walking with full assistance, walker or assistance with wheel chair at home and school. He still loves his toys (especially his trains) and Disney movies. The month of January Nicholas did experience an increase in seizures and myoclonic jerks in the early morning. We had increased his night and morning doses slightly. We had not increased  seizure meds for a year and 3 months. Nicholas is growing like a weed and that may be the reason why he needed more medication.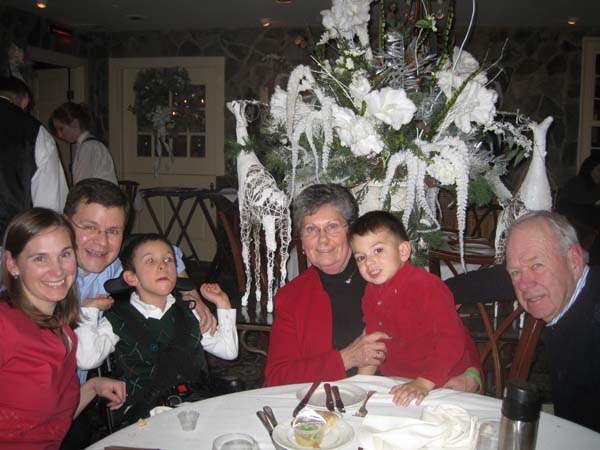 Since the surgery I have seen a decline in his speech. He will only use one word sentences or a small amount of sign language to communicate his needs. He is struggling to get the words out but he is still making many sounds. He is also having a difficult time drinking thin liquids, we have started to add "thick -it" to his fluids and that has helped. He continues to eat solid foods with no difficulty swallowing and has had no weight loss.   We know that a feeding tube called "Peg or button" may be needed in the next year as we don't want him to get aspiration pneumonia from difficulty swallowing fluids. Nicholas LOVES to eat and for quality of life we are going to try to feed him as long as we can. This breaks my heart but I know it will be the right thing to do in the near future.
We continue to wake up every day as a new one and cherish the time we have with Nicholas. We have remained very busy. After school Nicholas continues to have a very very busy schedule with his therapies every day. PT 4 days a week, OT 4 days a week, Speech 3-4 days a week, massage 3 days a week, horse back riding 1 day a week.  We try to go swimming every weekend.  We have also gone snow tubing at a ski mountain. It felt like we were shot out of a rocket. Nicholas yelled "again again again!" So we went many times down the mountain. The things we do with our kids! 
Chris had a board meeting with the BDSRA in Orlando at the end of January. We joined Chris and went to Disney for a few days. Due to a winter storm we were stuck down there for 7 days instead of 5.  Nicholas and William had a terrific time. Nicholas loved all the rides especially the roller coaster which he rode 3 times.  Other rides he enjoyed were splash mountain, buzz light year, haunted house and peter pan. This time we took Nicholas' wheel chair for the first time. I think both Chris and I were a little weary of taking it but Disney is the perfect place to take a handicap child. We were welcomed everywhere we went and easily accommodated.
UPCOMING FUNDRAISERS
Bedford Mom's club Easter Egg Hunt to benefit Our Promise To Nicholas Foundation: Saturday April 16, 2011. At the NH Sportsplex in Bedford NH. Time 9AM-11AM $5per person , $20/family. Egg Hunt, Huge Bake Sale, Games w/children prizes , Easter Bunny, Face Painting, Balloons.
3rd Annual Fore Nicholas Golf Outing and Dinner Saturday June 25, 2011. Stonebridge Country Club. Starting time 2PM